Corn Nation's Five Heart Podcast Episode 11
[ 48:19 | 66.37 MB ]
Play Now
|
Play in Popup
|
Download
(988)
That did NOT go how we anticipated or hoped. 62-3.
Hell, the guys dislike that outcome so much that they barely discuss the Ohio State game at all.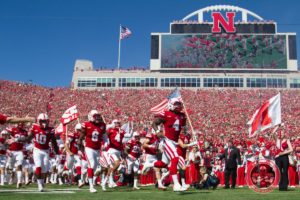 Instead, Brian and Greg talk about depth at several positions, but mostly the quarterback position. And speaking of quarterbacks (past, present, and future), the guys delve into legacies of players and what it means to be great.
And Brian doesn't HATE the $5 Bits of Broken Chair Trophy, it's just not the trophy he craves the most.
As a side note, Greg recently ordered a couple shirts for my son from Amazon. The name of the store is CornBorn. He bought two 12M shirts, but one was this design that you might enjoy:
Plug it like it's hot!
The Five Heart Podcast Twitter
The Five Heart Podcast Facebook Page
The Corn Nation Twitter
The Corn Nation Facebook Page
The Jittery Monkey Facebook Page
The Jittery Monkey Twitter 
Brian Towle
Greg Mehochko