At my place of business, we often leave out a bowl of candy for customers for anybody who would want some candy. I think it started around Halloween with an assortment of candy and of course the ever popular candy corn. It rolled into a bowl of dum-dum's, and became small candy canes around Christmas. The bowl disappeared for a couple of months until making a triumphant return earlier this week. The candy of choice this time around was none other than Charms Blow Pops.
I haven't had a Charms Blow Pop in decades, to be very vague about it. And so when I saw this majestic bowl of candy and gum on paper sticks, I knew I had to have one.
I always preferred the Blow Pops to Tootsie Pops even though Tootsie Pop had the more memorable ad campaign.
I think there was something about the longer enjoyment of a Blow Pop that added to its initial value. With the Tootsie Pop, it's three licks, a crunch, and you eat the Tootsie Roll inside. But with the Blow Pop, you could chew that gum until your jaw fell off. And if you chewed that gum long enough, your jaw probably would fall off. But at the end, its longevity was open ended.
Plus, I remember receiving a Blow Pops as a reward if I was good while I got a haircut. Candy's Clip N Curl in Fairview Heights, Illinois was where I got my haircuts for the early part of my life. I remember sitting in the chair at a young age, and as most children probably do, I would not sit still. At that point, Candy said she had a box on the shelf of all the ears of little boys and girls who lost theirs because they couldn't sit still.
I remember sitting still after that. And therefore, Blow Pop.
At one point, Charm's Blow Pops were offered in blue raspberry, and that became my world. I still love blue raspberry flavors. And I have not yet matured past the point of enjoying when my tongue turns blue. A classic example is going to a Tropical Sno and just getting the blue raspberry flavor. My wife even enables this issue for me and recently picked up a pack of blue raspberry Peeps for me to enjoy this Easter season.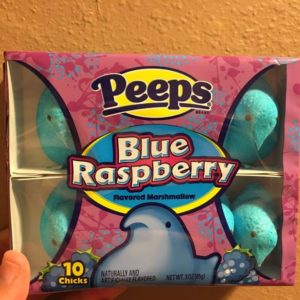 There will come a day in the future where I will have my own barbershop and the next generation of children will be rewarded for their good behavior with a Blow Pop from their parents through my establishment.
Then the circle will be complete, and I will know I'm where I'm meant to be.