Five Heart Podcast Episode 59: Top 5 Favorite Husker Football Wins
[ 112.57 MB ]
Play Now
|
Play in Popup
|
Download
(1113)
What is your favorite Cornhusker football victory in a non-championship season? Why did I have to get so weirdly specific there? 
Do you have one? Could you come up with a top five? That was the challenge Hoss brought to the Five Heart Podcast this week.
Nothing from 1994, 1995, or 1997.
Believe it or not, it wasn't extremely difficult coming up with my list. And it was Hoss' idea, so I'm guessing he already had a few in mind. Remembering specific details or the emotion of a game was easy. Getting into the nitty gritty of what the game meant in the broader picture was fun.
Also, (SPOILER ALERT!!!) Joe Bauserman pass chart!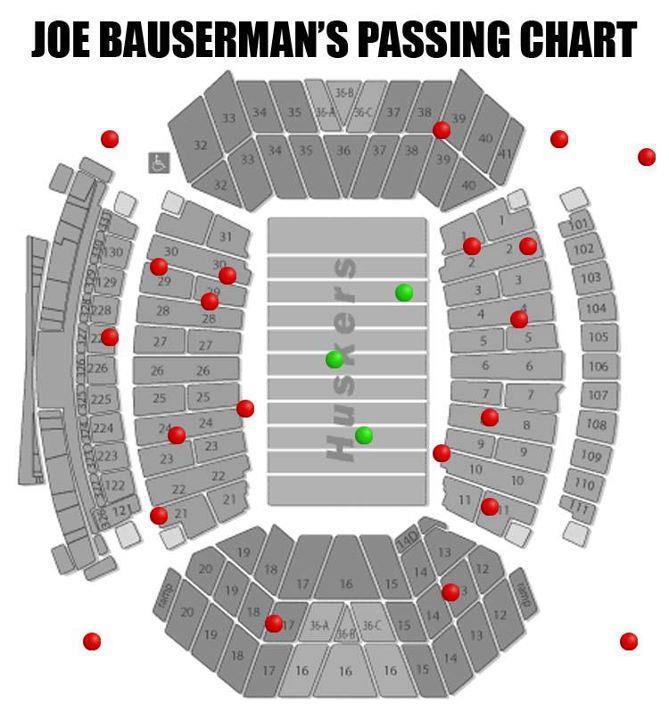 We also got some input from the CN crew, and encourage you to leave your top 5 in the comments.
GBR and WTDG!
Don't forget that the podcast is now on Google Play and PodBean, as well as Apple Podcasts and Stitcher as it has been. More ways to listen. All for your convenience.
USE THESE SOCIAL MEDIA LINKS to interact with us. Not saying I'm bored or anything… just… okay, I'm bored without you.
And many thanks to Tom and Jim's Top 5 for inspiring the list!
The Five Heart Podcast Twitter
The Five Heart Podcast Facebook Page
The Corn Nation Twitter
The Corn Nation Facebook Page
The Jittery Monkey Facebook Page
The Jittery Monkey Twitter
Brian Towle
Greg Mehochko
Hoss Reuter