My 1-2-3 Cents Episode 148: Lisa Marie Varon
[ 54.35 MB ]
Play Now
|
Play in Popup
|
Download
(585)
Lisa Marie Varon
When the book of women's wrestling is written, there will no doubt be a chapter on our guest this week, Lisa Marie Varon. Fans remember her best as Victoria in WWE. The former two-time Women's Champion helped pave the way for what we see in 2017 from the women in the ring.
Victoria has the distinction of being the first woman to win a steel cage match on Monday Night Raw. She beat Lita (with some help from Matt Hardy).  She went on to have success in TNA as Tara, winning the Knockouts Championship five times. Lisa Marie Varon now wrestles on the independents and has a show coming up against ODB in Nashville on Saturday, Oct. 14 at the Nashville Fairgrounds. Learn more here.
Lisa Marie shares her experiences in the WWE and how she ended up getting into the ring. Fun fact, she was once a ho for the Godfather.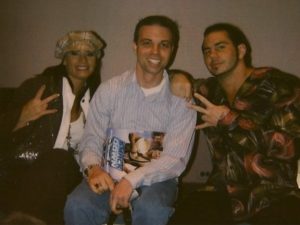 As you can see in the photos, I met Victoria at WrestleMania 22 in Chicago and again at WrestleMania 24 in Orlando. It was one of those quick meet and greet sessions, but she was very nice to the fans coming through. Nowadays, she's active on social media and interacts with fans there was well.
CollarXElbow Partnership
Don't forget, I'm also now a part of COLLARxELBOW. You can shop online and use the promo code MY123CENTS to save on t-shirts when you shop. The company has added some new shirts in recent weeks. It's a great way to support indy wrestling and My 1-2-3 Cents. Thanks as always for your support.
Check out these social media pages
@RealLisaMarie (Twitter & Instagram)
@StrideWrestling (Twitter)
@strideprowrestling (Instagram)
@COLLARxELBOW (Twitter & Instagram)
@kevinhunsperger (Twitter)
@kevin_hunsperger (Instagram)
@my123cents (Twitter & Instagram)
@HarnessDM (Twitter & Instagram)
@itomharness (Twitter & Instagram)
@CCWrestling573 (Twitter & Instagram)
@chadsmart (Twitter)
@jittery_monkey (Twitter)
@NerdsUnitedShow (Twitter)
@Craftbeericans (Twitter & Instagram)
@The25th_Hour (Twitter)
@Skullbusterpod (Twitter)
@TomAndJimsTop5