All right, I have a confession.
I'm a complete and total mark for the show Archer.
I can't explain it. But I've been on board with this show since almost the very beginning. I'd say I became aware of it in Season Two and watch it on Netflix. I watch new episodes shortly after they air. I DVR…I have zero patience for commercials.
I know it's crude. I know it's immature. I know all of these things. But…
Damn it's funny. I mean, I laugh my ass off (that's a quarter for the Swear Box, I know).
If you've been living under a rock and are unaware, Archer is an animated series (brilliant art, in my opinion) about Sterling Mallory Archer, a secret agent, who works for the spy agency ran by his mother. The agency used to be called International Secret Intelligence Service, or ISIS. But with certain groups in operation in a certain part of the world, the writers of the show obviously and wisely wrote the show to explain a name change. In other words, we can't have nice things.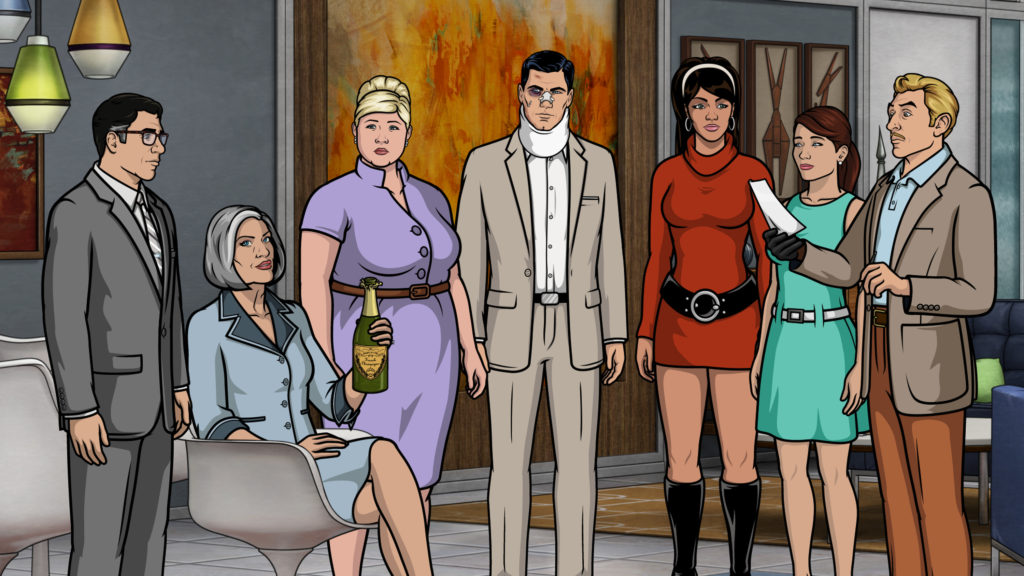 Archer is surrounded by other (former) employees of the spy agency, his on-again, off-again love interest and baby momma Lana Kane, her ex-boyfriend and company accountant Cyril Figgis, a good agent, Ray Gillette, Mallory archer's secretary Cheryl (sometimes Charlene…or Carol), and HR's Pam Poovey, who had a horrible cocaine addiction in Season 5. I'm leaving out Doctor Kreiger, because he's batshit crazy (another quarter).
The thing about Archer is that the team is highly dysfunctional. Honestly, if not for Lana and Ray, they'd be screwed. Archer's not the worst spy, but he is a prime example of "it's better to be lucky than good."
Season 8 began last night. I've watched the premiere episode three times. Archer: Dreamland is a throwback to 1947, with Archer serving as a private investigator. This season takes place entirely in Archer's mind, as he is in a coma.
Maybe it's just my affinity for the fine automobiles made by Dodge.
But seriously, if you take nothing else away from watching this show, I hope you take away a greater appreciation for the exotic ocelot, aka the fox-eared asshole (and another quarter into the box…this is what Archer does to me).
Check out new episodes of Archer Wednesday nights on FXX (check local listings). Check out old episodes of Archer on Netflix.
Like this post or any of the posts from the Fresh Content series? Please share them on social media and tag Nerds United in the post. It's the only way to get the word out about this site.
Here I am on Facebook, and this is where you can find me on Twitter.