Five Heart Podcast Episode 81: Cross Examination of Zach Grunder
[ 1:26:38 | 0.01 MB ]
Play Now
|
Play in Popup
|
Download
(1440)
Welcome back, everybody. Hoss survived Colorado, and Greg survived another week of doing someone else's work. This week, the guys are joined by Zach Grunder, a recent UNL graduate who just returned from a well-deserved extended vacation to Europe, where our young colleague toured most of the continent.
Who is Zach?
Well, he's the swaying gent on the right of this famous Husker GIF.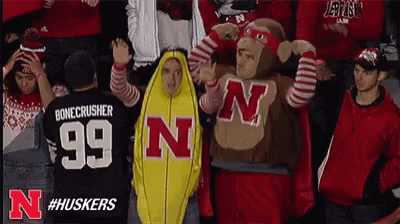 So the Cross Examination is filled with all the familiar questions. But hey, fall practice has begun! And that means there's Husker football to discuss. First of all, Hoss is downright tickled that OC Troy Walters defines the team as having that "extra juice" practicing in full pads. And with Maurice Washington eligible and practicing, how is he adapting with a late start?
If you like the show, tell your friends. Tell them we're on the PodBean app, Apple Podcasts, Google Play, and Stitcher. Subscribe, then rate and review.
The Five Heart Podcast Twitter
The Five Heart Podcast Facebook Page
The Corn Nation Twitter
The Corn Nation Facebook Page
The Jittery Monkey Facebook Page
The Jittery Monkey Twitter
Brian Towle
Greg Mehochko
Hoss Reuter