Now I'm going to preface everything else I'll say tonight by saying I am not an automobile historian. I'm just a salesman. I'm sorry, a "Sales Consultant."
$35 for a year. The dealership I worked at when I first got into sales had a 190-crap I can't remember but I think it was a 1902. Oldsmobile Curved Dash, 1-cylinder. Here's an old picture of it (as in…from the 1980's).
Sat two. And the sign next to the car, it said you could board your horse for a year for $165 OR get all the gas you need for your car for a year for $35.
So here I am, three and a quarter years into my sales life. I meet people from all walks of life. Farmers, military, doctors, lawyers, lots of teachers and coaches. All of these people all have different needs, different requests, and probably most importantly, different budgets.
When I show a customer a new vehicle, particularly a higher trim level, I have heard on more than one occasion, "they sure are proud of that thing."
Say hello to car prices in 2017.
If you've been a regular car buyer for thirty years, twenty years…heck, even ten years, you'll know that the price of vehicles has, well: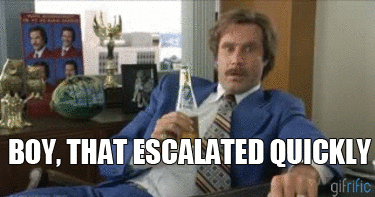 The things you paid for fifteen years ago, well, you're still paying for them now. But you're also paying for all the computer components. There are a ton of electronic features that didn't exist back then, or if they did, were in the rudimentary form.
Heated seats, remote start, navigation, ventilated seats, memory driver's seat, back up camera, park assist. And that just names a few. Even smaller features you don't even think about – like tire pressure sensors.
Now vehicles will park themselves.
That's a thing. I've done it. It's insane.
Other vehicles will drive themselves, but they are in early stages and I don't recommend it for anyone.
Technology has changed the landscape of how vehicles are made, how they are marketed, how they are found by the consumer, and ultimately, how they are sold. It has made my job both easier and much more difficult. There is a ton of information out there. Make sure it's reliable. Use services like Edmunds, www.fueleconomy.gov, IIHS, and me.
Here's the thing. Sales isn't easy. It's not for everyone. Some days I wonder if it's even for me. But we do what we have to do. And until I win the lottery (which I don't play), looks like I'll be trying to move that metal.
So…who's in the market for a vehicle?