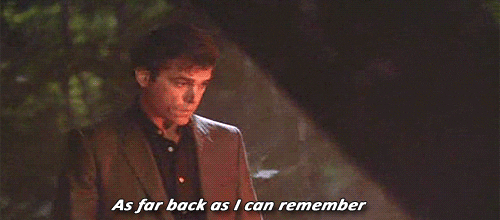 …I've had a vested interest in ancient mythologies.
I love their stories. I love their characters. And because of that lifelong appreciation, I tend to enjoy mythology-based enterprises more than some.
I talked about it in my post about video games, but PlayStation's God of War was a game that really caught my interest when I saw it talked about on X-Play.
But before I could *see* these ancient worlds in a video game, I would read about them. There was a book in my school library with an old and tattered red cover. I don't know its name (though I borrowed and read it twice), but I really think it was called "Norse Mythology." And that's what it was about. It was the Norse mythology, cover to cover. It talked of Asgard, Odin, Thor, Loki, the frost giants, and in the end, Ragnarok. But it was no Marvel-spun tale. Thor had a fiery red beard and wore animal hides.
I know that Neil Gaiman provided the world with his re-telling of the famed Norse Mythology.
Like Gaiman, I had knowledge of Jack Kirby's Thor, and had that picture in my mind when I first delved deeper into the Norse gods.
I don't know if we'll ever see an epic movie (franchise) based on Norse Mythology. I'd pay to see it, though.
My initial exposure to Greek mythology came about thanks to cinema. It was from 1981's Clash of the Titans. I don't remember the exact year I saw the film, but I was still in single digits. There was something about the tale of Perseus, overcoming the Fates, vengeful goddesses, a swamp-dwelling monster, gigantic scorpions, Medusa, and of course, the recently released Kraken.
Because of my love for the source material, I'm also in the minority when it comes to the 2010 version, as I'm a bit more forgiving. It told the story. They even threw in a quick shot of Bubo (which does exist in Greek mythology, as it was a mechanical replica of Athena's owl of the same name – take THAT, Bubo haters).
2010 also gave us another movie based on Greek mythology, and based on its own series of books, Percy Jackson and the Olympians: The Lightning Thief. If you're uninitiated, the series is like Harry Potter but with Greek mythology and not witches and wizards. The titular character, Percy Jackson, learns he is a demigod, a son of Poseidon. He goes to Camp Half-Blood, befriends other demigods and a satyr, and begins an adventure to prevent war between the gods.
I watched the movie, then bought the box set of all five books. I don't remember how long it took me to read The Lightning Thief, but I read the second book, The Sea of Monsters, in an 8-hour span one night when we were without power and I couldn't sleep.
Again, because of my appreciation for the origin material, I'm a little forgiving with the movies. But I did enjoy the books more. Here's a fun fact if you have not read the books. In The Lightning Thief, Percy and his friends actually visit St. Louis and the Gateway Arch. While there, he encounters an old women with her dog, revealed to be Echidna and her "pet," the Chimera.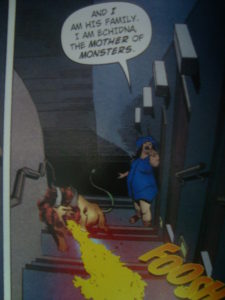 After his Percy Jackson series concluded, author Rick Riordan wrote two different series set in the same universe, The Kane Chronicles (which I have not read) and Heroes of Olympus (which I have). The Heroes series ties in very well with the Olympians series, and borrows more from Roman tradition. Magnus Chase and the Gods of Asgard is a series that first began in 2015 and, you guessed it, borrows from Norse mythology. I will have fond memories of the first book in the series, The Sword of Summer, as I read that on my tablet while at my son's side in the hospital in the days and weeks immediately after he was born. I have not yet read the second book, The Hammer of Thor, but I'll get it on my kindle eventually.
Readers of the site or listeners to the podcast know how far behind I am on my reading.
Admittedly, as you'll notice, the mythologies that have held my attention are western mythologies. I couldn't tell you anything about eastern civilizations and their ancient mythologies.
But these are just a few examples of my mythological nerdiness. Anyone out there share my appreciation for these ancient tales?
Like this post or any of the posts from the Fresh Content series? Please share them on social media and tag Nerds United in the post. It's the only way to get the word out about this site.
Now, as Long Island Iced Z Zack Ryder used to say, "Like me on Facebook. Follow me on Twitter. And take care, spike your hair."
Woo Woo Woo. You know it!